More businesses are returning to the office as remote work becomes less necessary. As you prepare staff to transition back to in-office work and meetings, take the time to assess your space.
Does it display the same professionalism and pride that it used to? Is it a good environment for employee morale?
As your company makes a full return, consider sprucing up your office space with freshly printed wall graphics, custom displays, branded signage and vinyl screening. AlphaGraphics Pittsburgh is proud to be your local provider of expertly designed and printed office graphics.
Plus, we have the experience to back our success! One recent example is the office transformation we executed for Sheetz in Bakery Square. The company aimed to recruit high-level staff nationally and needed a hip, new space that would attract and excite professionals. Sheetz turned to AlphaGraphics Pittsburgh to create multiple signs and graphics to enliven their new space, including an entry wall mural, glass screens and artwork clusters.
Whether you're creating a new office like Sheetz or want to give your existing space an upgrade, here are eight reasons to take the leap on a fresh look.
1. Showcase Your Work 
You take a lot of pride in what your business produces. What better place to showcase those creations than in your own office? Use your space to display your company's services, project portfolio and product offerings in creative ways.
There are many ways to do this. You could create a network of framed wall hangings featuring specially designed artwork or print large panels to be set off the wall, creating more dimension. To go even bigger, consider printing images on vinyl and arranging them on your walls or windows. The goal is to make your work stand out and inspire staff and visitors alike.
2. Impress Your Clients 
Your office has the potential to make a powerful first impression. The space should be inviting, aesthetically pleasing and easy to navigate. Upgrading your space can even spark intrigue and create points of discussion before and after client meetings.
If it's a larger space, make it easy for clients to find you by installing clear and concise wayfinding signage inside and outside. Reinforce your brand and its value through bold, dimensional wall logos and signs. Help clients learn more about you with creative murals or timelines displaying your history or processes.
At the new Sheetz office, AlphaGraphics Pittsburgh created that "wow" factor through a multifaceted entry wall mural. The design incorporated historical photos, current Sheetz marketing imagery, artwork and multiple materials into a collage.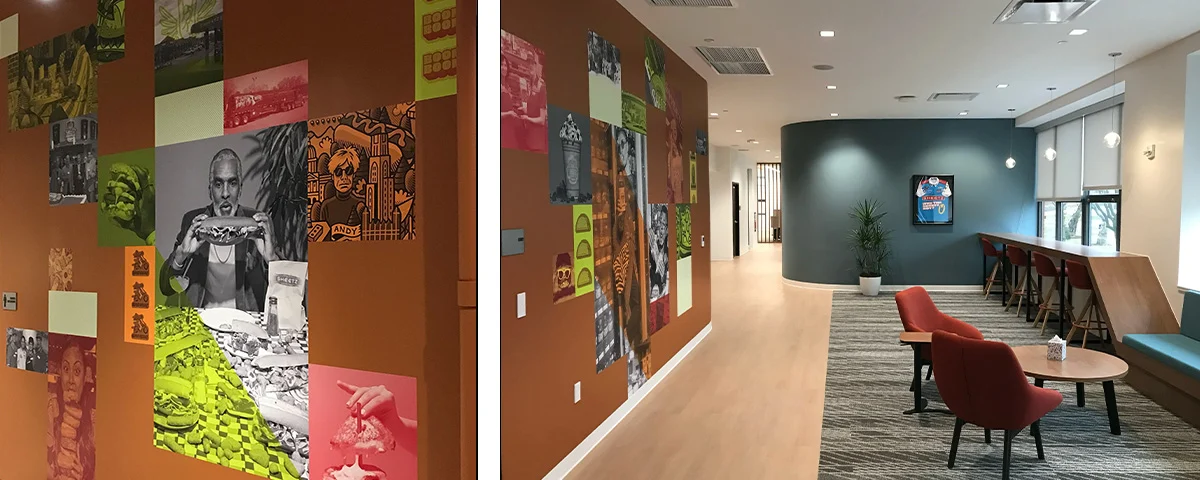 3. Solidify Your Brand 
The office is an extension of your brand, so it should look the part. Use signage and graphics to reinforce your brand identity to all employees, clients, visitors and passersby.
You can do this both inside and outside. If your business uses fleet vehicles, branded vehicle wraps make your logo and identity known from the parking lot. Outdoor signage on the storefront, windows and lawn make the space your own. Inside, you might use brand patterns as artwork and decorate in your brand colors to create a cohesive experience.
Brand introduction was a big part of the Sheetz entry wall mural. The AlphaGraphics team installed a dimensional logo to reinforce Sheetz's branding. Each letter was created with different materials, like a red-lacquered metal "S"; an "E" made of wood slats and vinyl; and a neon-lit green "Z." The logo's backdrop uses strategically cut and placed neon plexiglass panels in a green, red, yellow and orange palette.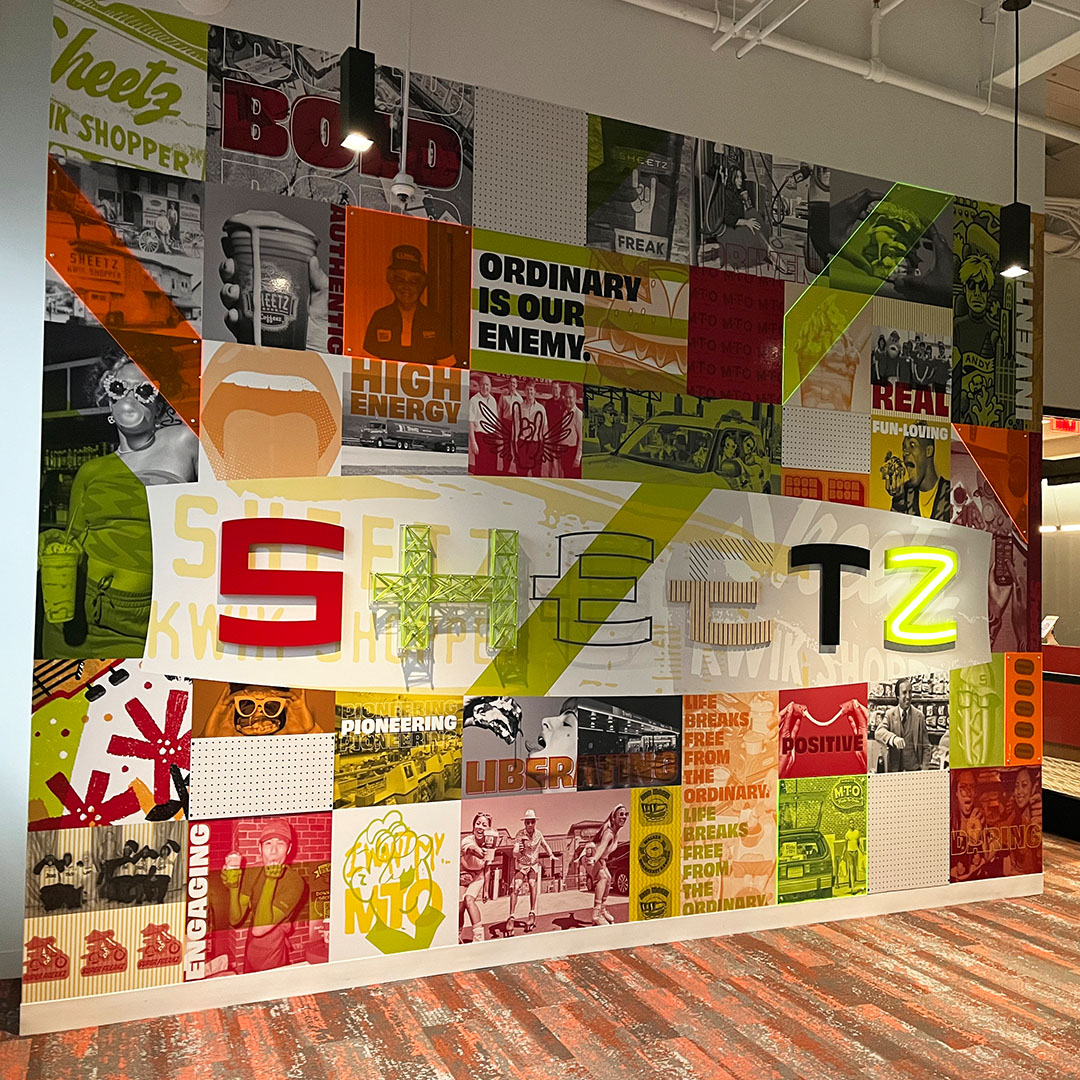 4. Celebrate Your Partners and Sponsors 
The partners who support your business deserve recognition, too! Incorporate partners and sponsors into your office decorations to give credit where it's due.
Wall plaques are a simple and classy way to honor important sponsors and encourage future partnerships. If your business thrives through sponsors, you might want to go even bigger by creating sponsor logo walls using dimensional graphics or installing a metal or glass recognition display listing each partner's name.
5. Conform to Post-Pandemic Changes 
A lot of businesses changed their office structure and layout during the pandemic, but few have implemented updated graphics. Leverage practical signage and displays to delineate the use of space, create more privacy and enhance wayfinding.
Wall graphics are great for identifying notable areas of your office, and simple wayfinding signage can point visitors in the right direction. Vinyl screens can be installed over glass to enhance privacy and separate offices and conference rooms from more open spaces.
At Sheetz, AlphaGraphics applied glass screens to five conference rooms. Our team coupled frosted vinyl with color-printed vinyl in geometric striped shapes to create privacy and add visual interest.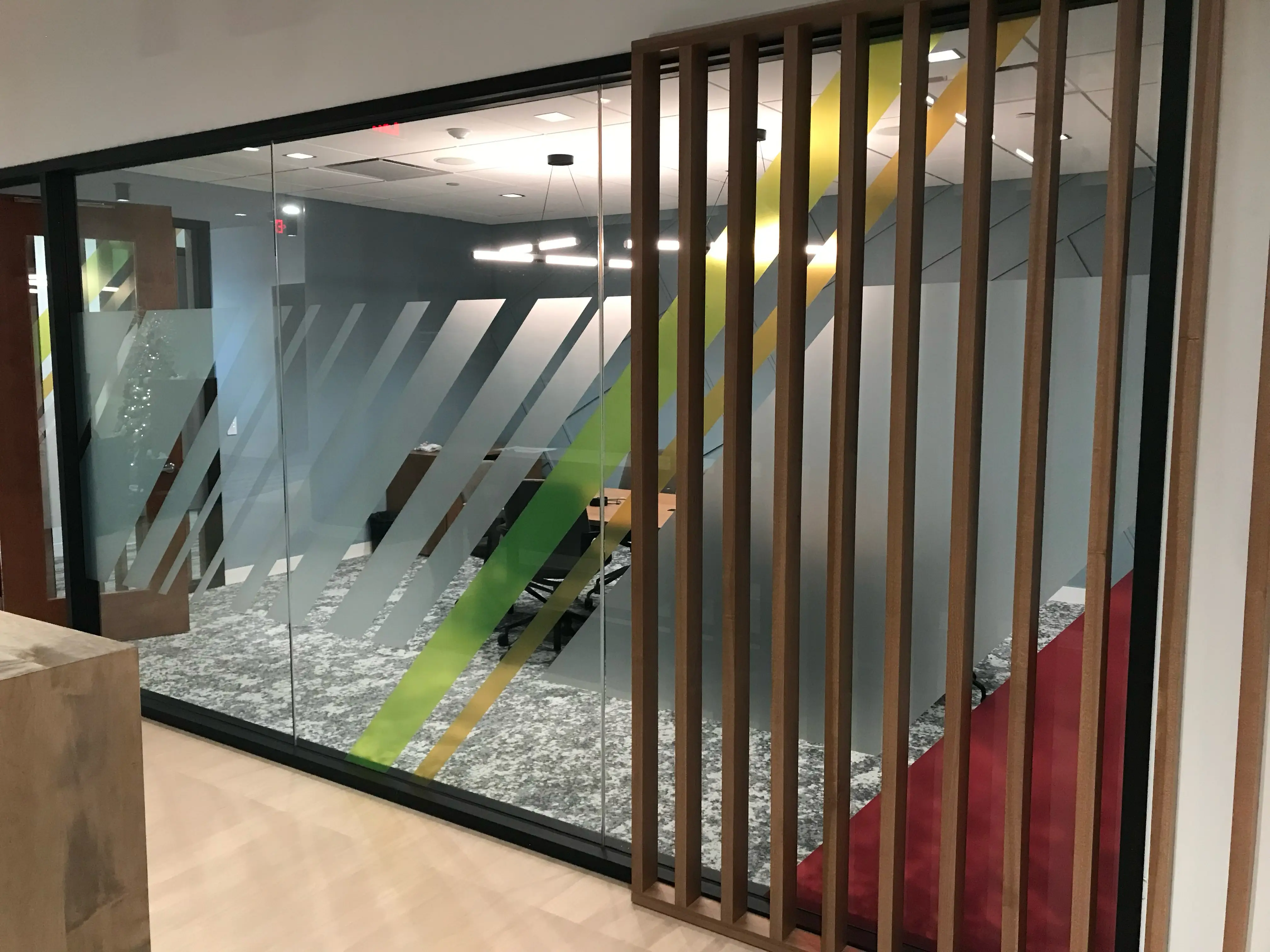 6. Boost Employee Morale 
Your staff should enjoy the space they work in every single day. A colorful, interactive and inspiring space can make employees eager to come to work.
Add elements of motivation by adhering inspirational quotes on cut-out vinyl to the wall or displaying work process tips and helpful reminders in work spaces. Encourage worker participation with a creative and interactive display in a common area.
Sheetz asked AlphaGraphics to create an interactive wall display that would allow staff to vote for an item of the week. Our team implemented a large wall panel featuring a pegboard backdrop, with pencils forming the letters of the main headline. We added chalkboard panels and troughs for pencils, which allowed users to vote by placing a pencil in the appropriate board.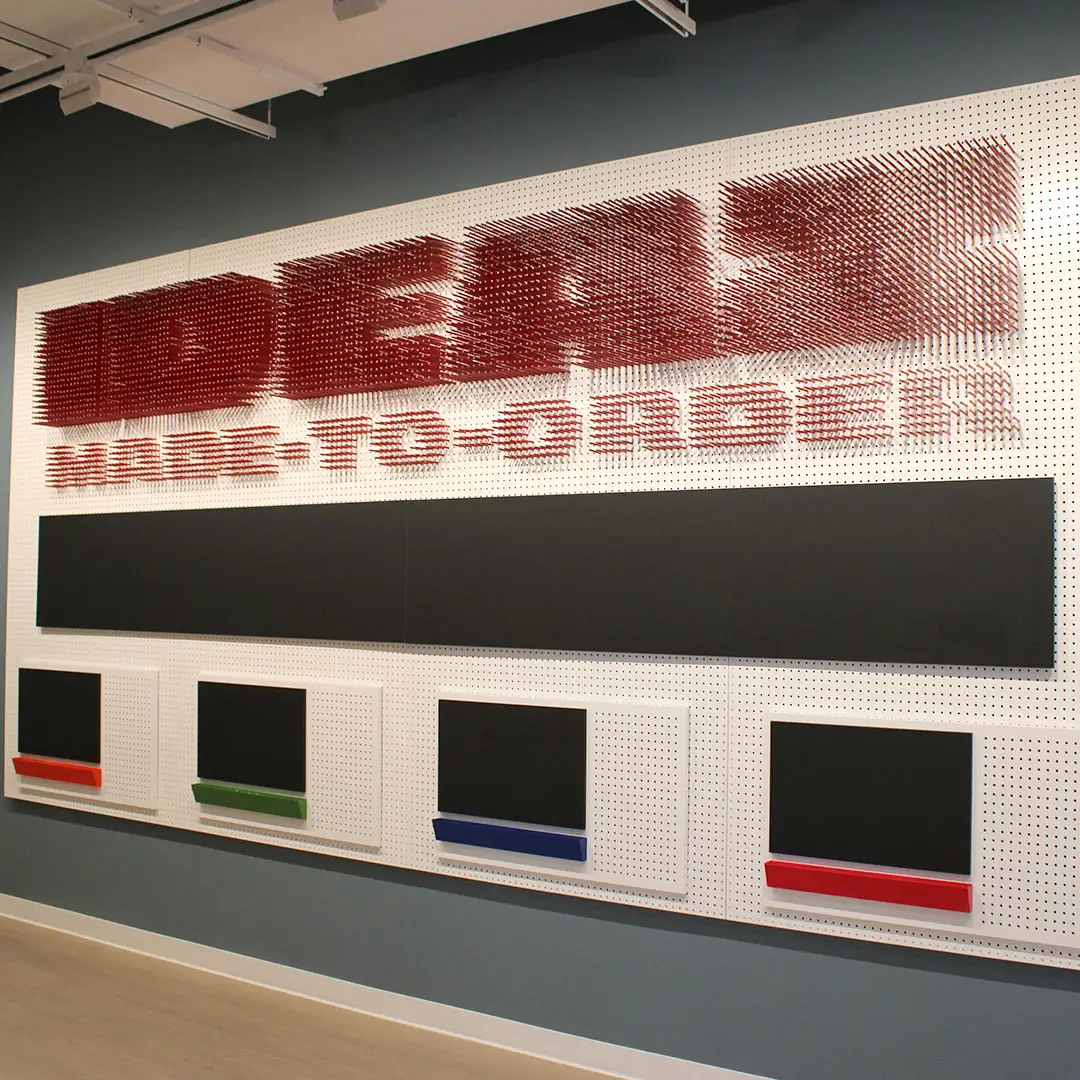 7. Hide the "Ugly" in Your Office 
Large, empty spaces or outdated paint jobs make offices less interesting to look at. Cover these areas up with creative and visually engaging graphics.
A bland wall can be completely transformed with a solid piece of vinyl artwork. If there are empty spaces along the walls, add stand-up displays with important notices or friendly reminders. Offices with large glass windows might benefit from frosted vinyl to obscure views and direct attention elsewhere.
At Sheetz, AlphaGraphics added visual interest to the office walls through four wall murals. Like the entry mural, these murals consisted of historical photos, current marketing imagery and artwork designed in a collage format.
8. Improve Your Aesthetic 
Sometimes, you don't need a reason to upgrade your office space. The decision might be as simple as wanting to refresh your look and improve the aesthetic.
Add small details like branded patterns or framed imagery to create artwork on bland walls. Implement custom displays to make brand messages more concise. You might even pursue a brand design update to match your new interior design! Together, these things can enhance the office's appearance and make it a more pleasant place to be.
Recreate Your Space
There are plentiful ways to transform your office space. Whether you want to strengthen your brand identity, boost employee morale, make wayfinding easier or simply freshen up your look, consider adding custom graphics and signage.
If your office space is in need of an upgrade, turn to the design and printing experts at AlphaGraphics Pittsburgh. Our team will create a cohesive suite of products that make your space feel brand-new.
Published:
March 15, 2023