With over three decades serving its community's heating and air-conditioning needs, Pleasant Air has always taken great pride in its commitment to family, exceptional service, and high-quality workmanship. The company gives back by supporting veterans, police, food banks, and other charities. It is beloved by its 30+ employees, most of whom have been part of the organization for years and feel like part of the family. But with times changing, Pleasant Air struggled to keep up with growing competition and effectively capture new business opportunities.
Longtime AlphaGraphics clients, they quickly jumped on the opportunity to enter the Make It Happen contest, and were overjoyed to become the third and final winners of an AlphaGraphics business makeover. Now this family-owned HVAC company is set up with a cool new brand — and business is heating up.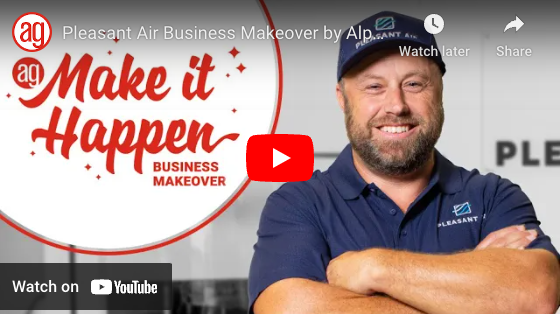 The Problem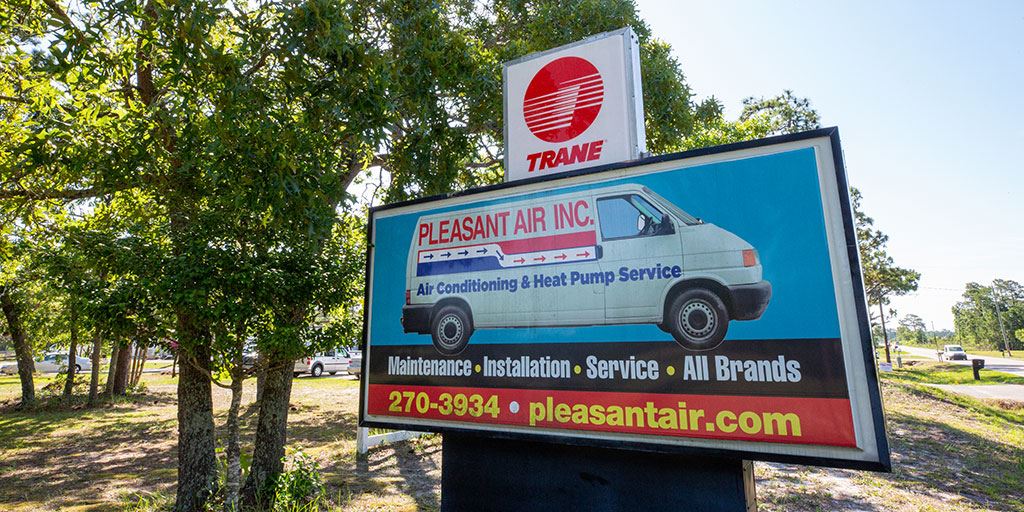 When COVID hit, Pleasant Air's essential workers continued answering customers' calls for heating and cooling service. But despite their best efforts to keep the business running as usual, the pandemic put a freeze on Pleasant Air's steadiest source of income — routine maintenance contracts. Nervous over having technicians in their homes, customers canceled contracts in droves. This problem was only compounded when all the HVAC units that had gone unserviced began breaking down, requiring urgent repairs at a time when supply chain disruptions made parts difficult to come by.
Pleasant Air persevered, offering a free year of service to retain customers and investing every cent they were able to earn into their employees in the form of raises and bonuses. But even as COVID loosened its grip and normalcy slowly returned, the rapidly changing business landscape began introducing new challenges.
Explosive new growth in the region brought opportunity, but it also attracted new competitors. With a brand that hadn't been updated in 35 years and relying solely on word-of-mouth marketing, Pleasant Air was having a tough time setting themselves apart from other HVAC servicers moving to the area, including large national chains with big marketing budgets.
The Solution
After selecting the business as the third Make It Happen makeover winner, the AlphaGraphics team quickly got to work to understand Pleasant Air's needs and create a plan to help usher in a new era.
Brand Identity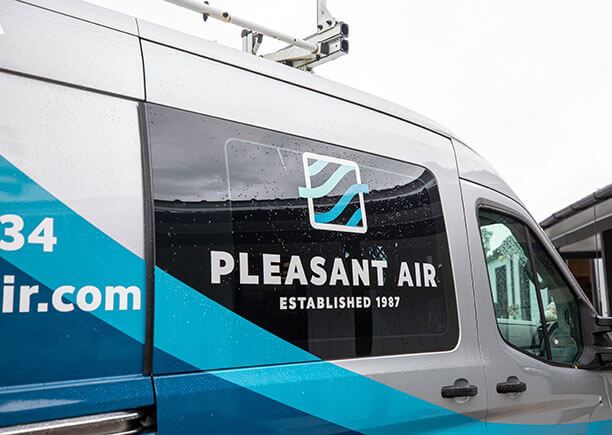 The team started with the business' original, three-decade-old branding. AlphaGraphics designers envisioned a fresh look with clean, flowing lines evocative of moving air, as well as the ocean waves — a loving nod to their coastal location.
Like the original branding, the new logo was first created in red and blue, which is a common color scheme used by HVAC businesses to represent hot and cold air. However, Pleasant Air decided to change it up to differentiate themselves from the competition. Through a collaborative creative process, they landed on a unique new color palette in shades of blue and pale green reminiscent of ocean water and sea glass.
Vehicle Graphics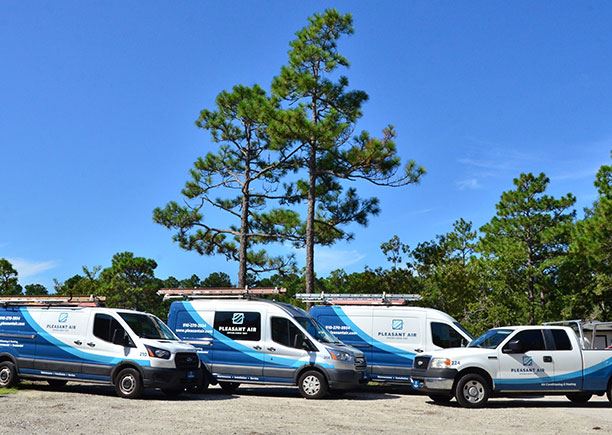 Now, the question was: how to showcase this sleek, modern new branding? As a service-based business, Pleasant Air rarely has customers enter its office space. Instead, the company relies on their service vehicles as "mobile billboards" to gain brand exposure and recognition — and to establish them as a professional, reliable choice for customers' HVAC needs.
AlphaGraphics designed and installed graphic wraps for a portion of the fleet vehicles, incorporating vehicle magnets as well to stretch the budget further while still ensuring that the full fleet was updated and on brand.
Digital Makeover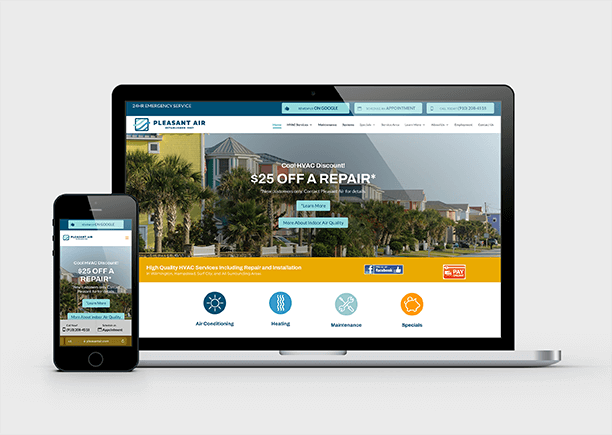 While Pleasant Air's vans help them gain recognition, their online presence is what earns them the most business. After all, when people are in need of service for their air conditioner or furnace, Google is typically the first place they'll turn. AlphaGraphics invested significantly in the business' digital presence to boost their visibility in search results and connect them with more new customers.
The team also updated Pleasant Air's website to ensure that it perfectly reflects the business's values. Now, customers can recognize at a quick glance everything that sets Pleasant Air apart: they're family owned, service oriented, and highly knowledgeable professionals.
Refreshed Space
After winning the makeover, Pleasant Air quickly recognized the potential to not just impress customers and earn more business, but also to boost employee morale and build a renewed sense of pride in the business. That was the focus of the final step of the makeover — updating the office environment, including signage, promotional products, and printed materials.
AlphaGraphics designed and installed a backlit marquee sign visible from the street, door graphics for the building's entrance, and floor graphics that capture the brand's values. Wall decor was implemented inside, including a large graphic to create a showcase wall behind a model air compressor unit and a dimensional acrylic sign with the new logo placed on the back wall.
The additions helped to liven up the space, but the makeover didn't stop there. Employees were given fresh logoed polo shirts, trucker hats, business cards, and koozies. To top it off, AlphaGraphics surprised the entire team with branded cornhole boards to use at company barbecues and customer-appreciation events.
The Results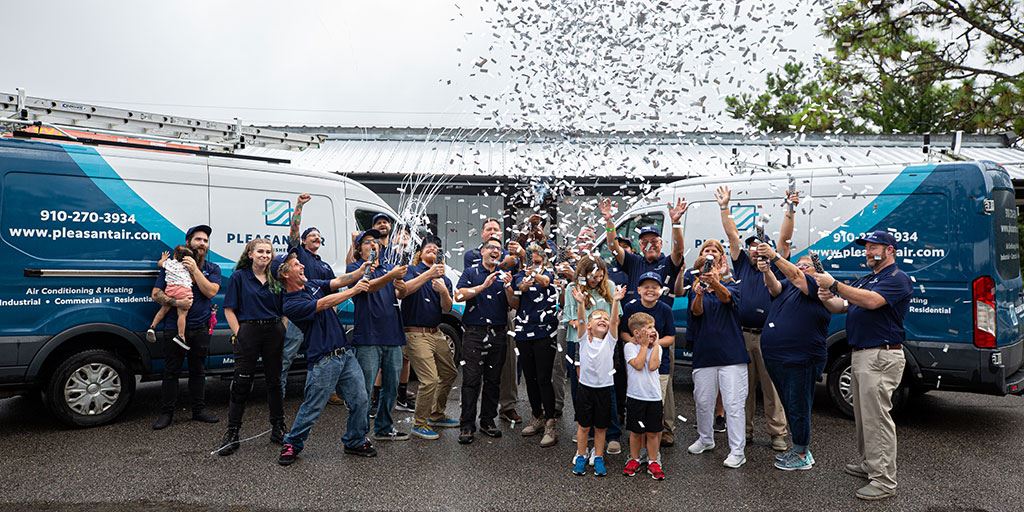 The AlphaGraphics team completed the installation in an action-packed five days, during which time Pleasant Air's work never stopped. Minimizing further disruptions to the business was a priority, so vans were taken out of commission one at a time, wrapped with their fresh graphics, and sent back out on the road. Workers buzzed around the installation crews setting up signs in the office space.
Almost immediately, the positive feedback started rolling in. People noticed the refreshed vans and commented on their new look. Staff gained a pep in their step, sharing how much better and more energized they felt working in their newly cleaned and updated space. Ads began reaching prospective customers online, encouraging them to call Pleasant Air to talk to one of their HVAC specialists.
"It was amazing to see what a difference a makeover can make to a service-based business," commented Stephanie Johnson, AlphaGraphics' VP of Marketing. "It goes to show that a business doesn't need walk-in traffic or passersby to showcase their brand in creative ways."
With their fresh new look and rejuvenated attitudes, Pleasant Air is feeling the wind in their sails. They are ready for everything the coming decades bring their way.
Could Your Business Use a Makeover?
For service businesses like Pleasant Air, many challenges stand in the way of reaching their full potential. An AlphaGraphics makeover offers a major leg up when it comes to standing out from the competition, connecting with new customers, and modernizing the business while staying true to its history. Contact us today to learn more about the possibilities a makeover could offer for your business!
Published:
October 6, 2022