When you sit down to eat at Tio Chilo's Mexican Grill in the Mission District of San Francisco, owner Liz Vazquez wants you to feel as though you're sitting around her family's kitchen table. The restaurant is a place for her to share the traditions and flavors that have been part of her family's history for generations.
Originally opened by Liz's parents Isidro (known to all as Tio Chilo) and Maria, Tio Chilo's is on its second generation of family ownership and will soon celebrate its 20-year anniversary. But two difficult years of the COVID-19 pandemic put the beloved restaurant's future in jeopardy.
Seeking a fresh start and a helping hand on the restaurant's road to recovery, Liz entered AlphaGraphics' Make It Happen Business Makeover contest in late 2021. Read on to learn how winning the AlphaGraphics makeover put a fresh spin on this business's stale look and is helping to usher in new customers — along with a brighter outlook on the future.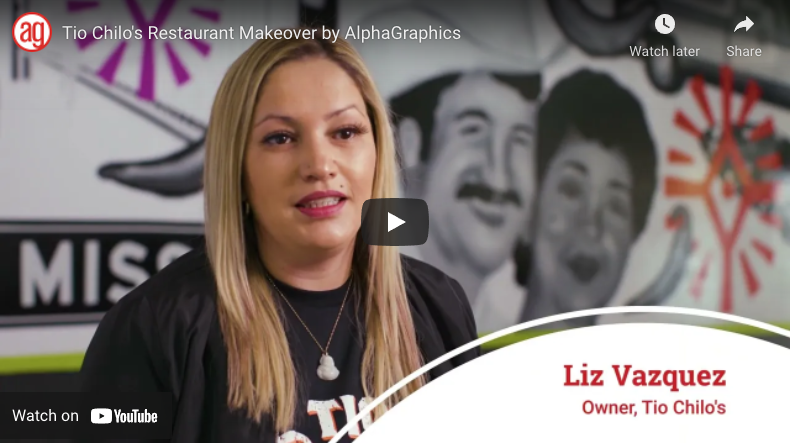 The Problem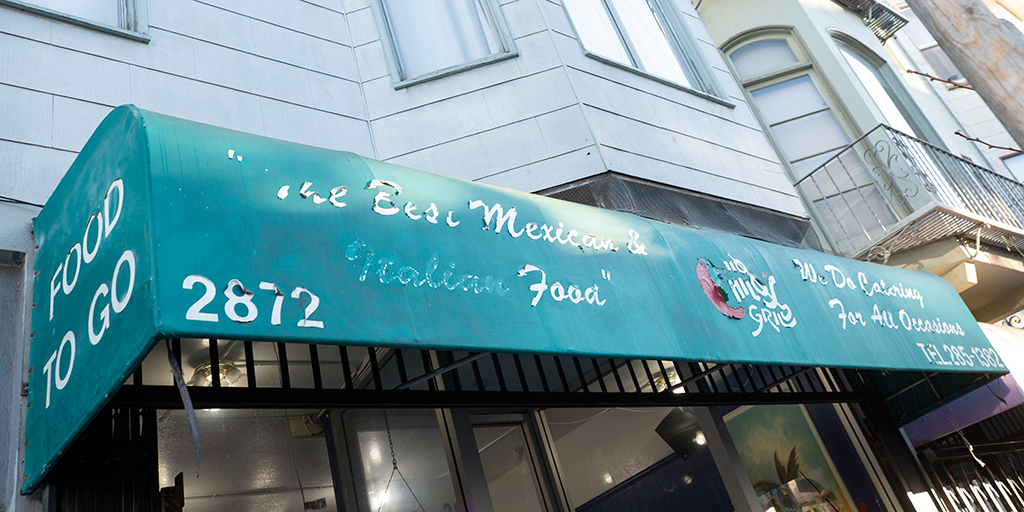 Like many small businesses, Tio Chilo's was hit hard by the pandemic. They were initially forced to close due to public health orders, and after reopening, they barely scraped by. "It impacted us really hard financially and mentally," remembers Liz. "We had to cut our business hours as we had days that not one person would come in."
Liz credits the strength and support of her community — the tight-knit Calle 24 Latino Cultural District — in helping her stay in business. She did her best to give back, participating in charity events where she would give away hundreds of free burritos to members of the community despite the difficulties she was experiencing.
Even aside from the pandemic, Tio Chilo's had been struggling to bring in new customers. While the restaurant always enjoyed a loyal following in the community, they had no way of reaching new customers — like the many tourists who frequent San Francisco and the Mission District in particular. Tio Chilo's lacked a website or online presence that could draw in new business, and the aged storefront wasn't doing much to capture attention from passersby. The tattered awning was badly faded, and the storefront failed to present a welcoming impression. "A lot of people don't know we are here because the storefront looks so dark," Liz said.
The Solution
As the first winner of the AlphaGraphics business makeover contest, Tio Chilo's was set to receive a $25,000 package including graphic design, print, signs, a website, and digital marketing support — everything the business needed to get a fresh start. As soon as Liz received the exciting news in February 2022 that she won, the AlphaGraphics team quickly got to work making it happen for her.
Brand Identity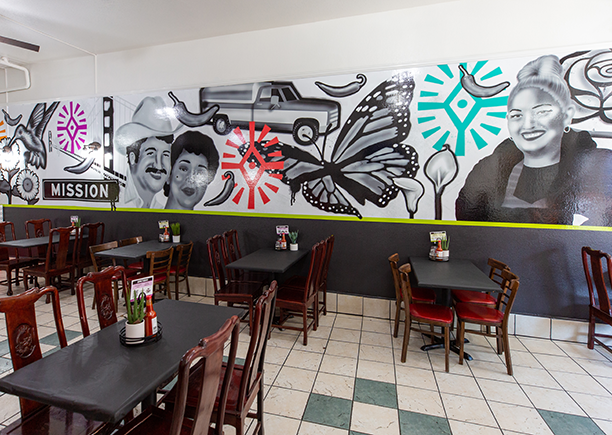 The team first tackled the restaurant's branding. To set Tio Chilo's up for a promising future, they focused on creating a brand inspired by the business's past. Designers incorporated a vivid color palette evoking the family's vibrant homeland of Jalisco, Mexico, as well as patterns reminiscent of the traditional Mexican paper flags known as papel picado.
The restaurant's new visual identity also celebrates the colorful characters who have been central to the Tio Chilo's story. A chili pepper in the new logo is a nod to Liz's dad, the original Tio Chilo, who is known for always carrying a chili around in his pocket. The team also created and installed a stunning 32-foot custom mural featuring imagery of the family along with San Francisco landmarks.
Signage and Printed Materials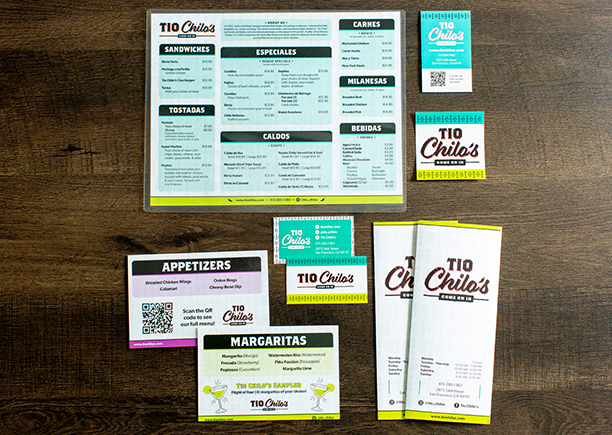 In addition to honoring the restaurant's history, the team aimed to give Tio Chilo's a more inviting appearance to help the business accomplish its goal of expanding its customer base. After redesigning the logo in a bolder font that's more easily readable, the team added a tagline, "Come on in," to immediately set a welcoming tone. A brand-new awning and window graphics were installed to capture attention from people on the street.
Once inside, wall graphics highlight some of the restaurant's signature offerings, like their famous margaritas, and help create a memorable (and Instagrammable) dining experience. Refreshed print collateral like dine-in and takeout menus, table cards, business cards, stickers, magnets, and staff uniforms rounded out the makeover and helped Tio Chilo's establish a strong and consistent brand.
The Results
Together with the AlphaGraphics team, Liz and her family unveiled the makeover at a reveal event held on April 15, 2022. The Mission District community turned out in droves to celebrate the restaurant's new look, with hundreds of people stopping by over the course of the night to check out the makeover, enjoy margaritas, and sample some of Tio Chilo's fresh and authentic food. A troupe of Aztec dancers helped Tio Chilo's mark the occasion, performing celebratory dances in traditional costumes complete with elaborate feathered headdresses.
It was clear from the event's massive turnout how much the community loves Tio Chilo's and wants Liz and her family to succeed. But going forward, the restaurant will also be able to introduce new guests to their timelessly traditional recipes. In addition to their refreshed, inviting storefront, Tio Chilo's brand-new website and digital marketing support will help to increase their visibility online and attract new business from tourists and San Francisco residents alike.
Could Your Company Use a Makeover?
Businesses across the country are still reeling from the devastating effects of the pandemic. But as Liz Vazquez experienced, a fresh look can translate to a fresh start, and a big boost to business and morale. Contact us today to learn more about the possibilities a business makeover could offer!